Drunk or Distracted Drivers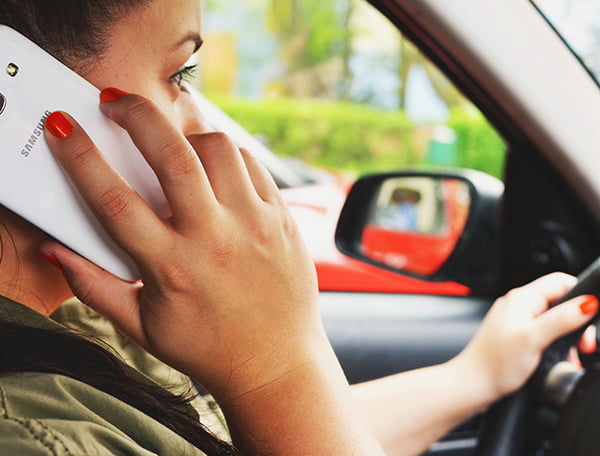 Toronto Drunk or Distracted Drivers Lawyer
Each year, drunk and distracted drivers cause thousands of accidents in Ontario. Distracted driving in particular is becoming an increasing threat to the safety and security of Ontario's road users. In Ontario, deaths from collisions caused by distracted driving have doubled since 2000.[1]
According to the Government of Ontario:[2]
One person is injured in a distracted-driving collision every 30 minutes.
A driver using a phone is four times more likely to crash than a driver focusing on the road
In recent years, distracted driving has been a larger contributor to motor vehicle deaths than impaired driving.
The list of modern-day distractions includes everything from texting and general mobile-phone use to personal grooming, to eating or talking with passengers. No matter the wide range of distractions however, the motor vehicle driver's primary responsibility is always the safe operation of their vehicle. The government's position on the issue of distracted driving was made clear in 2009 with legislation that made it illegal to use hand-held communication devices while driving.[3]
In 2015, distracted driving penalties increased under new Ontario law.[4] Per Bill 31 (effective September 1, 2015), fully licensed drivers may be fined up to a $1,000 and receive Three (3) demerit points.
Those injured as a result of the actions of drunk and distracted drivers may have a claim for financial compensation for their out-of-pocket medical expenses, for lost wages due to an inability to work, as well as other related consequences of their injuries.
Personal injury lawyers are important in drunk and distracted driver accidents in documenting the circumstances of the collision and establishing fault on behalf of the injured party. In some circumstances, the liability and responsibility for a drunk driving accident, for example, may extend as far as the bar or tavern who served the impaired driver.
Time Limits
There is a two (2) year time limit from the date of your accident, or injury, to file a claim in Court. If no claim is filed in Court, after the two year mark the right to make a claim will likely be lost. It is very important that you contact us as soon as possible after your accident, or injury, to make sure that the time limit is not missed.
There are a few possible exceptions to the two year time limit that are best explained by us. For example, if the injured person was under the age of majority at the time of the accident, or injury, you have two years from their 18th birthday. In some other cases the date the time limit starts is not on the day of the accident, but the day a person of sound mind should have known they have a claim.
Hiring Tony Lafazanis is risk free. There is no legal bill to pay, if there is no settlement.
[1] https://www.ontario.ca/page/distracted-driving
[2] https://www.ontario.ca/page/distracted-driving
[3] https://news.ontario.ca/mto/en/2010/01/distracted-driving-fines-start-february-1.html
[4] http://www.mto.gov.on.ca/english/safety/distracted-driving-faq.shtml